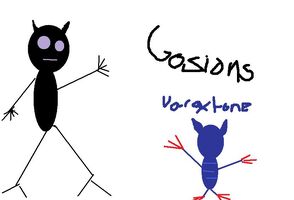 A villdizs is what people outside of the Pretend World call a monster. Villdizes can come in every shape, size, and color. Most villdizes, for example Ahnsoka, Necca, and Gosions, are black. Vindaharz, a famous dragon-like villdizs, is white and lives in the Clovin Forest. The Forest has a reputation for being dangerous and full of villdizses. The villdizs known as Shlasha is one of the few orange villdizes.
Differences between a Villdizs and a Monster
Edit
A villdizs is known to be scary, huge, and sometimes dangerous, while the Monsters, even though they look frightening, are friendly. Villdizes also are bigger than most Monsters. Also, Monsters are villdizes, but a special group of them that helps Alloszinn and the Seboan Kings.